iPhone X like Swipe Up based Gesture on any Android phone or tablet. Navigation gesture on OnePlus and MI devices.
We saw many innovative and popular smartphone in the year 2017. List of innovative smartphones cannot be completed without iPhones. In 2017, Apple released iPhone X with a lot of new innovative features. Features like Gesture-based navigation, Full-screen display, Face ID, etc are only available exclusively on iPhone X. Difference between ordinary iPhone and iPhone X is a home button. In iPhone X, Apple replaced the Home Button with Swipe Gesture Navigation. By swiping halfway up from the bottom to left-right of the screen you can control the phone. With the help of some Android apps, a user can try iPhone X like Swipe Up based Gesture on any Android smartphone.
How to get iPhone X like Swipe up based gestures on Android phone or tablet?
Using third-party applications like Gesture Control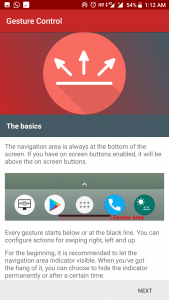 Gesture Control is one of the easy and lightweight Android application available on Play Store. It provides a lot of iPhone X like Swipe Up based gesture which can be used for navigation. Those gestures can be used to access Home Screen, Open Notification Panel, access Quick Settings, go back, access recent application, etc. This type of applications helps to operate a smartphone with a large screen. Gesture Control application can be configured as per the user's requirement. On the big screen, it makes difficult to access notification panel by swiping down the notification bar from upside to down. But by setting iPhone X like Swipe up based gesture we can access notification panel instantly.
Some of the iPhone X like Swipe Up based gesture which can be used on any android phone, tablet using Gesture Control Application.
Swipe Up
Swipe Left
Swipe Right
Double Tap
Double Tap and Hold
Long Tap
Swipe Up and Hold
Swipe Down and Hold
Swipe Left and hold
Swipe Right and hold
Swipe Halfway Up
Swipe Halfway Up and hold
Swip Halfway Up to Bottom
Like Gesture Control Application there are Multiple Android applications available on Play Store which can be used to set up iPhone X like gestures on Android tablets and phones.
How to use iPhone X like Navigation gestures on OnePlus 5T, 3T?
One Plus started to roll out the beta version of Android Oreo for its devices. One Plus 5T and One Plus 3T are now getting updated to Oxygen OS based on Oreo. In that update, One Plus giving users the exclusive option to use iPhone X like gesture function instead of on-screen navigation keys.
iPhone x like navigation gestures on OnePlus 3T, 5T:
Swipe up from the bottom-center area of the screen to go home
Swipe up from the bottom-left to go back or home
Swipe up from the bottom-right to go back
Swipe up and hold from the bottom-center to jump recent app list
How to Enable iPhone X like navigation gestures on MI, Redmi Phones?
From the year 2017, We have seen many bezel-less smartphones like Mi MIX 1, MI MIX 2, iPhone X, One Plus 5T, Samsung Galaxy S8, etc. In the bezel-less phone, navigation seems more difficult as the user has to deal with larger screen size. Sometimes jumping from one application to another makes more difficult on full-screen displays. With the introduction of navigation gestures, it gets easier to navigate on full-screen smartphones. With the release of MI MIX and MI MIX 2, Xiaomi proved that they are more than a budget smartphone. Xiaomi smartphones are powered by MIUI. MIUI is known for its features and iOS-like user interface. After the release of iPhone X, Xiaomi announced that it will bring navigation gesture support to its Full-Screen smartphones. Now, MIUI 9 Beta version of MI MIX and MI MIX 2 coming up with iPhone X like navigation gestures. Xiaomi is also set to release Redmi 5 Plus globally on 14th February 2018. According to the latest news, Redmi 5 Plus will be mid-range full-screen size smartphone. MIUI forum is claiming that Redmi 5 Plus will support navigation gesture feature out of the box. Isn't it a great news for MI fans?
If you want to use iPhone X like navigation gesture on your MI device then update your MI or Redmi device with latest MIUI Beta ROM. You can also check the status on Official MIUI Forum. Where you will get all news regarding features rollout and support.
Did you already receive navigation gesture support on your device? Also, Write your opinion regarding gesture-based navigation on a smartphone in the following comment.
Fix Instagram freezing issue on iPhone X.