Fix Instagram crashing, freezing, force stopping issue on iPhone 6/6s, iPhone 7/7 Plus, iPhone 8/8Plus and on iPhone X
Memories, one of the precious gift of a human being. It is one of the important things in our life which plays a big role. It allows us to remember specific moment occurred in the past. Some of them are easy to remember while some we can't. We can not remember those memories longer. In such cases, photography has given one of the media to a human being so we can store our memories. It is desirable and easy to share with other people. In childhood days we used to maintain album of such photos. Now, with the help of photo-sharing services like Instagram, Snapchat we can share and maintain our photographs so easily. And if you got good camera phone like iPhone 7/8 or iPhone X then its well and good. But from last week many users of iPhone are facing Instagram freezing issues. so, What is causing glitch of iPhone X/ 8/ 7/ 6/ other iPhone Versions?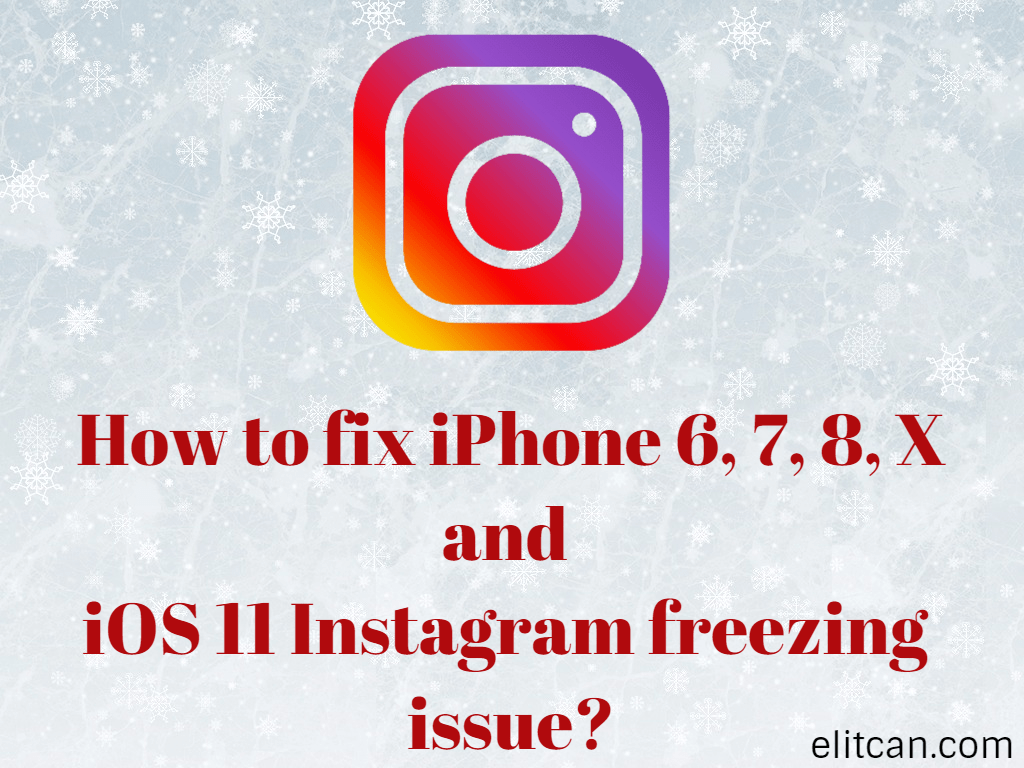 Why is Instagram crashing on iPhone 7/8 and on iPhone X?
Apple has launched three major devices iPhone X, iPhone 8 and iPhone 8 Plus in October 2017. Those devices come up with the bionic chip.
Apple also claimed that bionic chipset has made iPhone 8 and iPhone X fastest mobiles on the planet right now.
With such great speed and power if you facing Instagram crashing issues on iPhone then it is a big concern. But the reason lies in the software of iPhone devices. After the launch of iPhone 8 and X, Apple started rolling out iOS 11 updates to the new and existing devices. A large number of people started facing such issues after updating their iPhones. Compatibility of Instagram application with iPhone's updated software was so buggy. Because of this Instagram is crashing on iPhone devices.
How to fix the Instagram freezing issues on iPhone 7, iPhone 8 and iPhone X?
Before going to following steps try to RESTART your iPhone 7, iPhone 8 or iPhone X. And check that is your problem is now solved or not. If your problem was solved then avoid following methods. If you are still facing trouble with Instagram then try Instagram on Mobile Data as well as on Wi-Fi. It is recommended because iOS deals with different networks differently.
Oops…!! Still facing the same issue? Don't worry follow the simple method mentioned below:
Update! Updating current application with new one helps the user to fix common bugs present in it. From App Store, we can update our existing application. Check that your Instagram Application is updated or if not then update it. Or try to reinstall Instagram on your device. It will solve your problems like quick freezing and crashing Instagram application on iOS-powered devices.
How to reinstall Instagram application on iPhone 6, iPhone 7, iPhone 8 and iPhone x?
Go to Home screen.
Tap and hold the Instagram app icon until it vibrates and shakes.
Tap x on the app to remove it.
After uninstalling, navigate to the App Store and click on install Instagram button.
Done. Now, you can enjoy Instagram application on your Apple devices.
This way we can use Instagram on iPhone 6/7/8/X without any lag and issue. Post your photos captured from iPhone on Instagram with hast tag #iamelit. Try more than one Instagram account on one phone.